Viktória Kollerová is a photographer from Bratislava, Slovakia, whose reputation is largely founded on black and white pictures she takes of herself, composed into beautiful, often harsh surroundings, with a sense of expression, shape, tonality and humour that all too often strikes a nerve in me, profoundly and reliably.
Which has led to the conclusion that I needed to find out why the images speak to me and why they had to be made, to find out about a woman who said of herself that she "doesn't talk much" and to try getting into her head a little.
That could be a problem. I´m not there entirely myself.
Then who is the one inside your head? Simply put: what do you do for a living?
I used to work as a face-to-face English teacher, but for five years I have been doing only photography. I am not involved in big commercial projects, which means I am living with minimal expenses.
Is this what you always wanted to do? I mean, artists are often admired for their way of living
which, as many people think, they choose wilfully.
Doing what I do — I find hard to call it being an artist — most of the time comes to me as a handicap. The word "wilfully" does not actually play a role. I got hold of a camera only in my twenties, that is relatively late, but the intensity with which I started to use it could be called abnormal. I pointed a digital compact camera at myself in early 2009 and followed a very common pattern, growing at the platform of digital photo galleries, posting images (after making them suffer post-processing which seems to me rather ridiculous today) to be judged by other owners of cameras.
And to my surprise I was supported by this very public. Maybe it was this energy created by the mostly positive feedback that fuelled my further endeavour in photography and so I am grateful for it, because photography gradually gained the dominant place in my life. The urge to dedicate most of my time to photography came little by little, and it makes me extremely happy at times. But there is still a tiny voice in the back of my head, whispering.
What does it say?
It makes me ask myself what other things would have taken the place that photography has in my life.
Do you think you could go back to a non-artistic job, or would that feel like defeat?
I have never had a real job, so no. Going back to teaching is something I consider quite often, and teaching individual lessons is nothing short of artistic. Thinking of a regular job in company, as most of my friends are involved in, I truly feel I couldn´t do. I don´t even think any company would take me after googling the pictures I took. Yet sometimes I would like a regular job, stable salary, nice colleagues, a reason to get up at a certain time. There is nothing like defeat in this. You can´t stop being an artist.
Did you apply to art schools then?
I went for a consultation. One professor wanted me in his studio and the other did not. The opinion on your work is always a matter of subjective views and taste.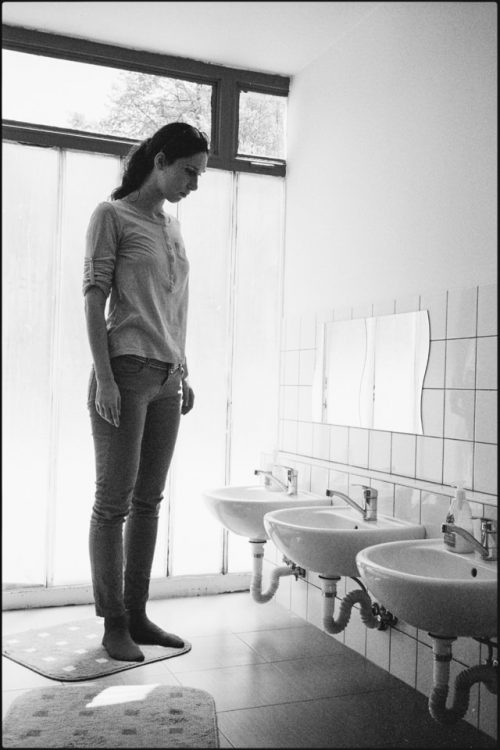 Do you want to be an artist? Like in "apply for the position of artist"?
I am not sure. I like to be undefined. The most real, genuine kind of photography to me is documentary photography. To be great at it, you really have to have the eye, the instinct and definitely nature. Not everybody can do it.
So you dipped into commercial photography instead. And I recall you saying about one particular project that it was exceptionally satisfying, almost like the whole photography thing suddenly made more sense. Though these are not at all like your personal art photography.
"I Can Dream Again" is a portrait series of cancer patients who won their fight with Non-Hodgkin lymphoma — a type of blood cancer — and their dreams. It was done for a calendar, and while I was not free to do what I wanted, it was redeeming to work for others. That is why I am enthusiastic about making pictures of newborns, children, brides, couples in love — or a calendar for cured cancer patients. I feel a bit less guilty afterwards.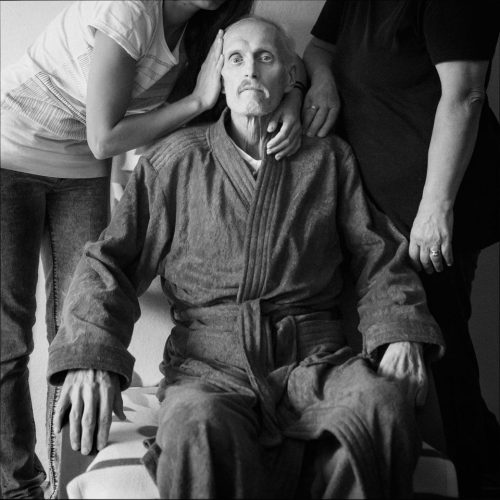 Do you feel like this is a necessary transition you have to make now?
The meaning of life is such a bothering question. At times, life makes little sense to me, and doing something for others helps equilibrate this feeling. Self-portraiture practised in such an extended way as I do, brings questions of selfishness, troubled ego or exaggerated self-centredness. My catholic upbringing raised a rather sensitive conscience and I often ask myself whether it is right to do work which is focused so exclusively on me. In other words, I often doubt that this is the best way to use my talents and energy, even though it helps me in various ways.
It occured to me that guilt is a big thing in catholisicm. And yours is vanity?
Definitely. I was accused of it many times. Selfishness.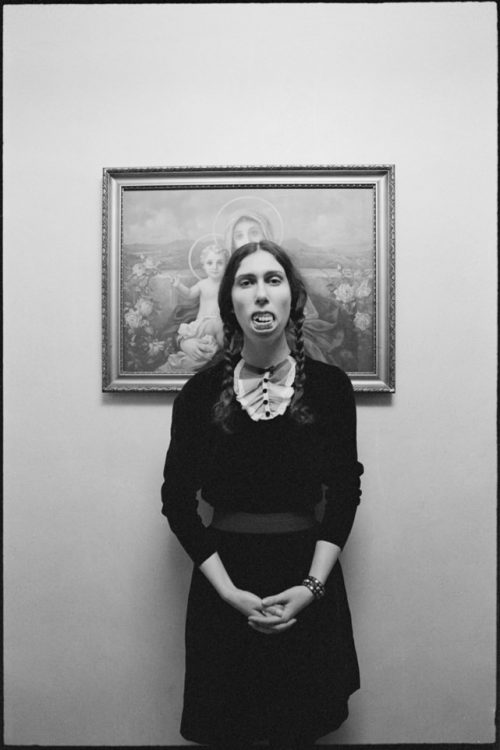 Not contributing to the contemporary social photography that is streaming at art schools is yet another problem. I love concept and a picture taken for a reason. Highly thought out, calculated, you know. But I also admire pictures made on momentary impulse, driven by emotion, not reason. Ideally a mixture of both. The best photographer at times is coincidence.
How do you think your photography has evolved in terms of beauty, concept and technique?
These aspects are very important for almost anybody who has just discovered the medium. Any high-end camera and good lens creates a "wow effect" out of almost anything. With the help of processing programs all you need is to find something beautiful — and the world is crammed with beautiful things, if not made entirely of them, as you later discover with your expensive equipment — then give it appalling colours, contrast and sharpness in the post-process and there you go: professional photographer. Being slightly more ambitious, with an itchy feeling that your depth of field is not "deep" enough, you convert your pictures to black-and-white, subtract a bit of sharpness, add the artificial grain and give your picture a mysterious all-encompassing title.

The easiest way to apply for the position of artist today is through photography.

In the meantime you play with layers and other more sophisticated retouching techniques or come close to graphics only to discover that the part where you are actually taking a picture is just a tiny fraction of the whole time you spend with the creation of your artwork. At this point you grow immensely tired of the artificiality of the process, and still not feeling entirely an artist, turn to analogue photography. Where, if your ambition is big enough, you move from 35mm to medium, then large format and finally wet plate collodion, fall through a pin hole or enter the wonderland of lomography.
Someone once called this process the "photographic puberty". Do you feel adolescent nowadays?
If adolescence is emotive turmoil… I´m still there.
An important quality of photography is its capacity to reveal. I appreciate that quality a lot. The choice of an object, the way you look at it, the fervour with which you are willing to follow your concept (or the feeling within) – all this reflects what is or was happening inside of you. Sometimes you understand your concept almost immediately, another time it takes a whole year, and some of the pictures I took are still waiting for me to be understood and accepted. It is sometimes hard to accept your own work.
That makes me smile. That not only you do something with photography, but photography does something to you, and having full control over it is an illusion.
Do you think most people are conscious of this?
I think most are too obsessed by perfecting their photography to permit themselves any kind of freedom.
And yet, I am not surprised, because there is always something to get better at. In my own photographic experience, beauty, processing, technology, concept and the notion of art was and still is important, I just try to oversee to what degree each of these aspects enters the whole process. There is high above all these aspects a feeling I have, over the time of what I have created, the level to which I can eventually connect to a particular photograph over a period of time.
Do you sometimes feel you should endeavour in other common photographic styles?
Not in styles. I often see a photograph that speaks to me, so I study it and try to understand what exactly it is that is so close to something I feel or experience.

What is style anyway? I once had to answer to an interview encompassing a tricky question: "Describe your style in 3 words."
I guess you were unable to answer it that superficially.
I wasn´t able to answer it at all. I am often puzzled when some people say "This is so much your style."
Most people do have a handwriting.
That is the right word. I like vertical pictures more than horizontal. I like a blurred element in a sea of sharpness, dynamics, stability… tension.

But it seems so stupid to describe your style in 3 words. Especially to describe it yourself.
It didn't explicitly ask for visual style. You could still answer it with words like exploring, revealing, obscuring, soothing, disturbing…
Yes, but those are a lot of words, many of them antonyms. An antagonic style. An adolescent photographer with an antagonic style.

You know, describing your style is a trap. I´d never describe something so evolving.
So there are your three words: "It's a trap!"
Such a shame I already submitted it.

In an effort to silence the voices who keep her busy with thoughts about vanity and alleged self-centeredness, Viki Kollerová — "a girl who tried to disappear" — gradually removed her presence from the photographs taken for the exhibition "NoBody" that she did in Banská Bystrica, Slovakia, in late 2015.
"Born in 1984. 184cm." You get the impression she does not quite fit into the world. Ah, well. Maybe she is just outgrowing it.
Website: vikikollerova.tumblr.com
This interview, in German translation, was first published in kwerfeldein magazine on Jul 2, 2016.